Use our Faceted Search to drill deeper into your search results!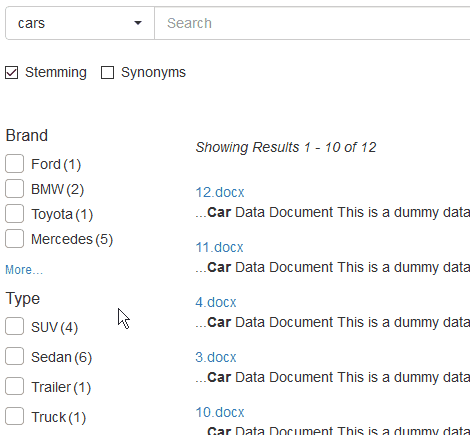 Faceted Search works by Enumerating Document Fields. To use Faceted Search configure Enumerable Fields.

Faceted Search on WordPress

Add faceted document search to your WordPress website using the Search Cloud One WordPress Plugin

Set Enumerable Fields on your Search Cloud One Indexes to use for Facet Search

Using the Search Cloud One WordPress Plugin, follow the included Quick Start guide to create a new [Shortcode] for Facet Search
Add the [Shortcode] to any page

On Websites and Apps

Use the Search Cloud One Search API to implement Facet Search on your websites and mobile apps.
Update your WordPress Plugins

The Search Cloud One WordPress Plugin has been updated to Version 2.2.0
Get to results faster – On top of Faceted Search, the new updated plugin automatically starts with search results visible. Get to the document you need, without even typing a query!
Learn More

Search Cloud One provides a Secure Cloud Based Document Search service.
Use Search Cloud One's WordPress plugin to provide document search to your website visitors, or use the API to provide search on any website or application.
Sign Up for a free 30 day trial* and try Search Cloud One today.
*Trial does not cover infrastructure charges. View our Pricing to learn more.